Our vision is to open doors and encourage contact to be able to bring the "Other South Africa" closer to you. This is the best way to expose you to important elements of our wonderful "Rainbow Nation" including the Xhosa, Zulu and Ndebele cultures and to better understand their rituals and daily challenges.
It is our vision and motivation that underprivileged families, especially children are left with a ray of sunlight after your visit to them. Be it interactive through the building of an Adventure Playground (Plus-minus 3 hrs) at a crèche, or the purchase of bicycles for school children who at times need to walk over 8 km to get to school.
On request we arrange individual Township tours with trained local guides during which Community Projects are visited and where in-depth information and background to township life can be gleaned.
We have been supporting several conservation projects in Southern Africa. Together with incentive groups we have successfully darted Rhino's in order to attach tracking devices to monitor the Rhino's movement and health, and to easily identify the Rhino.
Among the above, That's Africa has also donated to Rhino's without Borders and the Chipembere Project.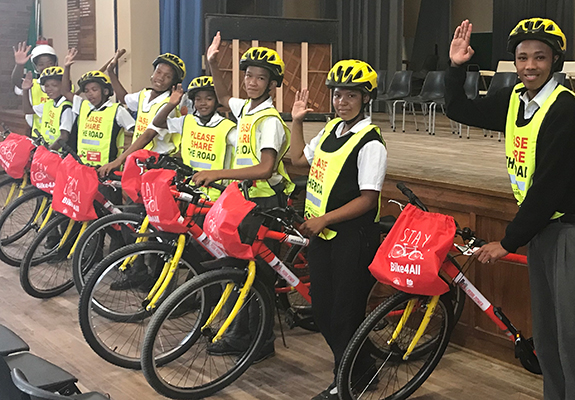 FAIR TRADE IN TOURISM SOUTH AFRICA
THAT'S AFRICA is proud to support Fair Trade in Tourism South Africa!
Fair Trade in Tourism South Africa (FTTSA) is a non-profit organisation that promotes sustainable tourism development. They do this through awareness raising, research and advocacy, capacity building and by facilitating the world's first tourism Fair Trade certification programme.
FTTSA awards the use of a special label to qualifying businesses as a way of signifying their commitment to Fair Trade criteria including fair wages and working conditions, fair purchasing, fair operations, equitable distribution of benefits and respect for human rights, culture and environment.
By electing to stay at, or use the services of a FTTSA-certified establishment, you are assured that your journey benefits local communities and economies, and that the business is operated ethically in a socially and environmentally responsible manner.